hey guysss! I entered my children's line in a contest to win a trip to the future insights conference at the end of April and I'd love for you to go HERE and vote for me - by liking or commenting on my post OR BOTH! It's through facebook.
(for old followers: my BIG PROJECT has been silent on here because of self-imposed NDA agreements haha, not because it hasn't been worked on!)
Today's the only day of voting so I promise this won't become a habit.
THANKS I LOVE YOU.
So awhile ago I posted about gathering research toward a children's line targeting kids with sensory complaints. And then, you know, life happened, which kept me from keeping a consistent update schedule online, but it's still something very important that I've been working toward.
We've been meeting with occupational therapists and talking to a variety of people who work with multiple kids - paraeducators, ABA therapists, etc - as well as parents we know, but I'm looking to expand on that beyond just my local options. My mother works at a school on the east coast and so I've sent her the questionnaire, but the issue primarily is getting in contact with parents, since she can't outright ask the children, you know?
So I thought I'd place the questionnaire here. I remember a few people were interested awhile ago, so hopefully they're still around. And if not, perhaps new viewers will have some input. Thanks!
April 2013: edited to provide a link to the real, current questionnaire, which is online and can be found HERE.
As I mentioned when I first started this blog, while I am a fashion design major, my main source of income at this moment is working with a set of ten year old twins. I got this job two summers ago, when I first moved out here with an unpaid internship & needed a job that didn't require me to pull a five day workweek. I got this job in particular because I've spent a lot of time working with special needs children.
The internship ended; I kept the job.
One thing I've learned in the past two years is that there is an utter lack of fashionable clothing for children with sensory issues. I mean, scratch that. There's a significant lack of clothing for children with sensory issues period. That is, children who can't handle things like a fly front or zipper against their skin. Or fabric that's too stiff, doesn't breath right. Too tight, too loose. The complaints are endless. And it's not just special needs children that have these issues.
Of the few companies that do target this interest, their clothing lines stop at size 7, or 8-10.
This is pretty typical of any company. It's rare that a company makes clothing for a child's entire growth into adulthood. There's a variety of reasons behind that, but it's usually separated by three or four categories:
• infancy - toddler
• toddler - child
• pre-teen (sometimes)
• teenager
I haven't been intensely researching for a very long time, but I have been searching for clothing that is BOTH fashionable AS WELL AS comfortable for A (Robin) and there is really not much out there, especially because A is on the cusp of leaving "child" targeted clothes, and entering the next size up - pre-teen.
What would you do if your child couldn't wear jeans? Forget about itchy wool, what if your kid couldn't deal with cotton? You send him to school in sweat pants and a nylon top and it doesn't match, but it's okay because it's the only thing he wears without a fit. Let's not even get into what you do in the winter, when every coat on the planet is too restricting. that's fine when they're little (except it's not), but what about when they are old enough for their peers to notice this? call them out on it?
how is that okay?
Oh my god. At a time when appearance couldn't be considered any more important to a child, I've found that there's a significant LACK of clothing options AT ALL for these kids.
I think I'm going to do something about it. Or at least, try to. This is precise the worst time for project ideas to begin to develop, with Halloween and costume commissions, but it is a project I feel strongly about and think will take a lot of time to develop. More time than Halloween ideas. It's something that is probably more important than Halloween ideas, but I do get caught up in that holiday…. hah.
So…. here we go.
If any of you know any parents with kids they have to fight into clothing, you should get a hold of me. message my ask box  or submit, with their email included; also facebook or, if you already have my email, that way works as well. I have a questionnaire for them; soon I will set up an email solely for this, but I'm still working the kinks out on it, however.
http://aidanrae.tumblr.com/ask
http://aidanrae.tumblr.com/submit
THANKS!
Comic-con had a potential to go horribly. It didn't. Not even a single bump.
Huge crowds, swarming people, and being ten year old boys appropriately costumed, a steady stream of, Can I take your photograph? That's enough for most adults to be overwhelmed and anxious.
That being said, Lo & A handled the crowds admirably. They stopped when asked for a photo, snapped on their masks (until A's broke) and posed with their hands on their hips (sometimes they strangled me/Harley). They loved it! Found all their Tiny Titans comics, got some action figures, and got So Much Attention.
I'm glad I got a few things taken care of - adding more grommets to A's spats (though I really wanted to just remake them, oh well) and completing his gloves. Lo was very concerned about not having a utility belt (because "Nightwing is PROTESTING Batman's!") but it was really the best idea, clipping everything to his waistband, instead of making that contraption for behind his back. With only a few days and a LOT of other projects, it just wasn't an option. As it is, you can't even see the wingdings (worst. name. ever.) on his right side. Maybe I'll take some close up shots.
ALSO THIS DESERVES A PARAGRAPH BY ITSELF: How excited am I that A's new tights MATCH? Oh man. Check how how NOT neon greenish yellow they are! Wahoo! Did forget to cut the neckline of the green shirt underneath, though. Oh well.
Lo really enjoyed that there were no other Nightwings around, and that a lot of people commented on how awesome it was he chose this character, and that you NEVER see Nighwings, blah, blah blah. He got pretty cocky (it was cute):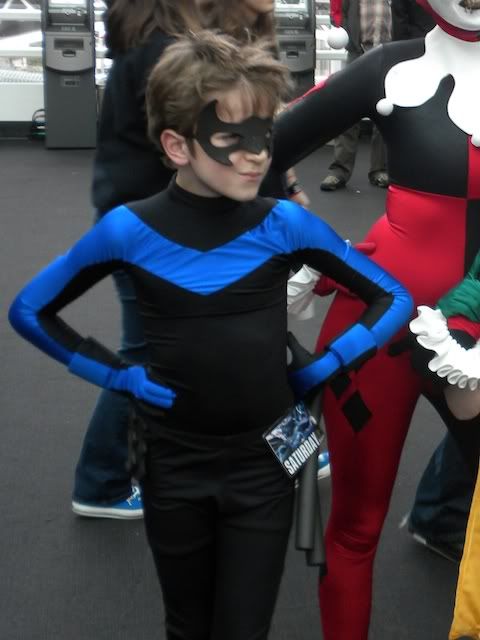 As far as A goes, he was very concerned about specifying which of the Robins he was, because he wanted to make sure everyone knew he was ROBIN and not himself. We had an entire ferry ride conversation about why I thought he should be Tim Drake instead of Jason Todd (um because Tim is more adorable?), because Lo was Dick Grayson and "There can't be TWO Dick Graysons! (but man, imagine if there were?)" It was pretty cute to have that conversation with a ten year old (as opposed to, you know, fan sites ahem).
Lo had been prepared since the morning, when the pair of them were dancing around the house chanting "Today's the day! Comic-con! Today's the day!" (I like that my YJ obsession is infiltrating their lives) and he would only answer to Dick Grayson or Nightwing. My friend Kyu already compares my job to Alfred's (but that's another post), so it was even more amusing to wake up in the morning and be like, "Ok Mister Grayson, BREAKFAST FIRST. Eat your eggs!"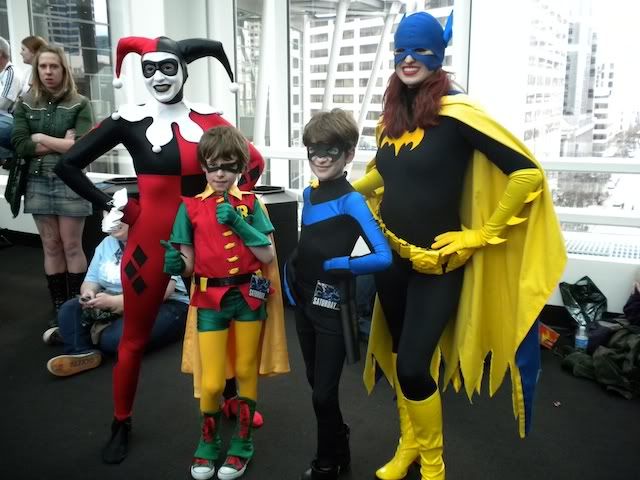 This was the first convention the boys have been to in costume, so they were really excited to find other Batman characters to pose with - and of course we found a lot. Highlight for Lo's day was finding a Batman, and he was great! "Oh look, both of my sidekicks are here!" Note the LACK of enthusiasm, despite the fact they were THRILLED:
My regret for the day is that I didn't get any action shots. Which is sad, really, because Lo and I spent so much time on his weapons… that just sat at his hip. The troubles that arrive when you, yourself, are in costume; taking photos as well as dressing up never works. Sucks that I never get any good shots of my costumes. It's a small con, but I'm hoping I'll find some on Flickr or DA.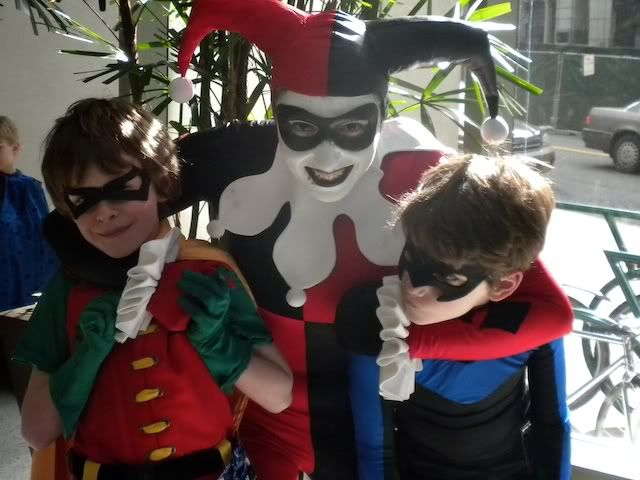 Sidenote: Oh man. Nothing says "Get a diet" like spending the day in a spandex suit.
This past Halloween was Batman-themed (I'm a fantastic influence). Coupled with Colin's and my Joker/Harley pair, Lo was Two-Face and A was Robin a la Burt Ward (his pick). We purchased a cheap Batman suit for the boys' father, and made a Poison Ivy costume in a day for their mother. A's costume was the main focus of my Halloween commissions, as Robin (well, Dick Grayson) is my absolute favourite comic book superhero and so I wanted to make it as good as possible.

I had some restrictions, due to A's age and sensory issues.

• The fabrics had to be soft and pliable.
• A has issues with many clasps and closures (he won't wear fly fronts, for example) so it was important that he could not only remove the clothing easily, but also not feel the closure on the tunic.
• October in Seattle isn't cold but it's not warm, either. Wearing tights and a short sleeve shirt, Robin isn't well-suited for real world nighttime.
• Robin's shoes. A has a large adjustment period to new shoes, especially over the ankle. I didn't have time to hand construct him Robin booties, and while I loved the idea of green doc martens (a la Damian), it just wasn't feasible. I went with spats over dyed converses, shoes that A enjoys.
• Keeping in mind A is a ten year old boy, I couldn't keep the costume shapes exactly the same, as I didn't want it to be either inappropriate, or get him mocked at school.

Initially, I was concerned about the tights because of A's adjustment to new clothes and the fact that most little boys won't look at tights (even footless) without assuming they're for girls. That being said, A handled tights amazingly. Not the slightest hesitation. I guess it pays off to introduce superheroes to your little men!

Sidenote to the sidetone: The kids at school loved his costume and no one teased him. I was really worried!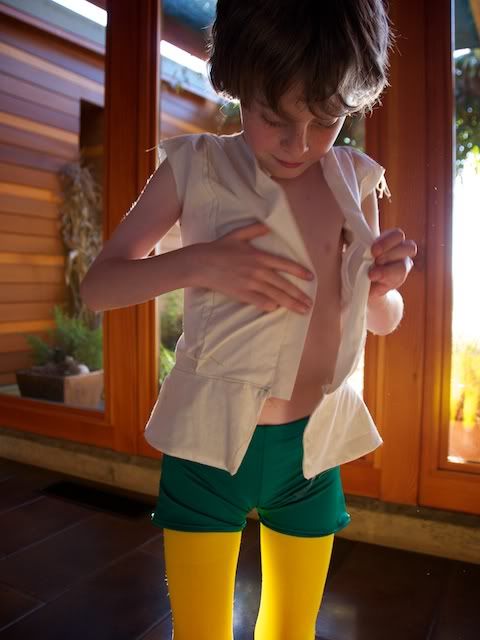 Construction-wise, I tackled the tunic first and foremost, since it required the most tailoring and drafting. It had to be loose because of the green shirt underneath, and also because of the high collar; I knew it would make A feel choked. I made the bottom flare bigger to cover him more, instead of it matching right at his beltline. The best part about the tunic is the false front: the grommets are a flap over a thick plastic zipper that makes removal easy, and also puts multiple layers between the closures and A's skin. I found a great four way stretch for the green fabric, but I knew it would be too cold for A so I lined the shirt with a soft green cotton jersey knit that just wasn't the right shade for me (also it would have stretched out as boyshorts). I also made the sleeves longer, to help keep him warm. It was wholly successful, as A wore constantly that, the green boyshorts and the yellow tights.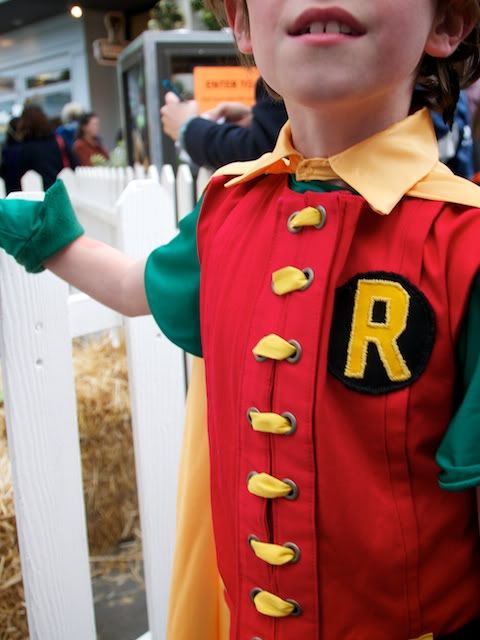 I had massive issues with his gloves. They took around 7 or 8 muslins to complete, mostly trying to find the right median between tight/looking good and loose/feeling good. I also lined the forearms with fleece (as well as the cape and spats), which kept rolling over, as you can see above.

And then we lost one. He also kept doing this: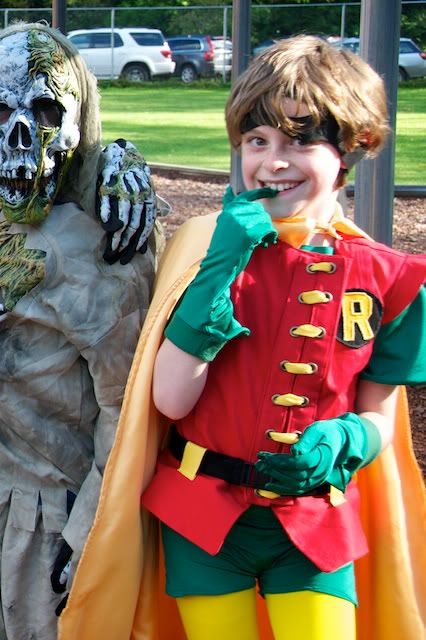 Which, okay. Adorable. Not so good on the fabric, though.
So remaking the gloves is important.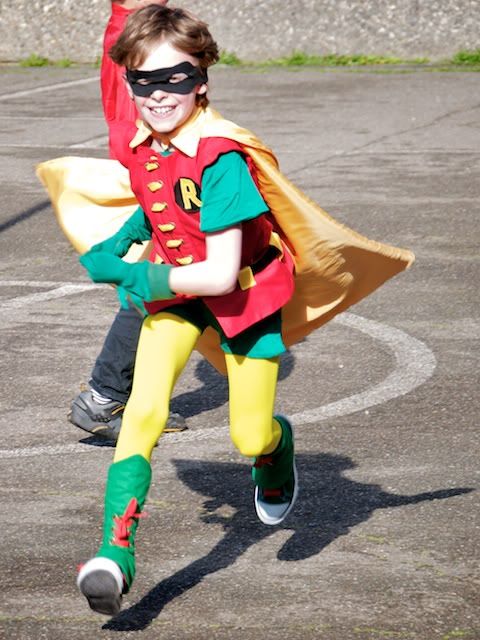 The spats drive me nuts. I ran out of grommets (poor planning on my part), so there's just a scant few on each spat, making them look less like Damian's military Doc Martens and more like Cheap Halloween Costume Ridiculous. Throwing in those foul neon yellow tights and I knew that a lot had to be adjusted before I wanted to bring him to a Comic-con, even just Seattle's.

As for Nightwing, we have both batarangs and escrima sticks. I have adjusted the backseam as much as possible and I'm thinking of lining his gloves with some craft foam to make them pop a bit, as the comics sometimes show (also, I was just really displeased with how the gloves met the shirt).

I can't believe Saturday is the big day for them! Last week my black contacts arrived so I can have comic-book eyes for Harley Quinn, which I am excited to experiment with. I know she has those faded blue eyes but I've seen people in those contacts before and I don't think I will really pull that off. Black will be subtle and great. Too bad Colin's Joker jacket is in shambles for me to remake, Harley's just going to have to drag around the pipsqueak boy wonders by herself!
Tomorrow I'll have an update on the puppets - five bunnies and a frog at the moment!